WE LOVE TO FUNK BAND
7:00 PM – 11:00 PM. Outdoor show on the Main Stage!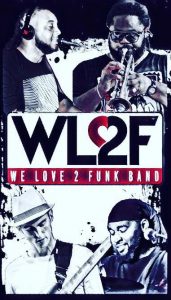 About the Band:
"We Love 2 Funk" brings you the best in live music. From Jazz, R&B, Hip Hop, Rap, old school and funk. Whether its live covers or original tunes, WL2F's raunchy raw flow mixed with its artful and smooth touch, Your sure to be moving and grooving all night.
Band Members:
Malcom "Mac" Howard-Lead Vocals, Sherome "SweetKeyz" Clay-Keyboards/MD/Vocals, Taylor "T-Lee" Lee-Bassist,Morey "Coffe" Jenkins-Drummer/Programming
Thursday Bar Specials: