Join us for our amazing Super Bowl 2020 Party!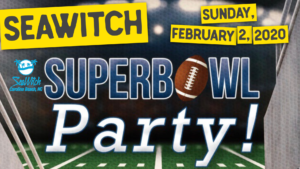 We've got 10 Large Screen TV's, so every seat is a GREAT SEAT!
Super Bowl Food Specials:
$8 Wing Basket with Fries
$8 Rib Basket with Fries
$8 Shrimp Quesadilla
$8 Chili Bowl & Grilled Cheese
$15 Super Bowl Steam Pots
Super Bowl Drink Specials:
$5 Mimosas
$5 Bloody Marys
$12 Domestic Buckets (Miller Lite, Coors Light, Yuengling)
$15 Import Buckets (Corona, Corona Light, Modelo Especial)
$15 WHITE CLAW Buckets (Lime, Mango, Black Cherry, Grapefruit)
$7 "The J-Lo" – Crown Royal Regal Apple, Berry Liquor, Fresh Lemon Juice, Sparkling Wine
$8 "The Shakira" – Captain Morgan Coconut, Peach Schnapps, Belvedere, Pineapple and Cranberry Juice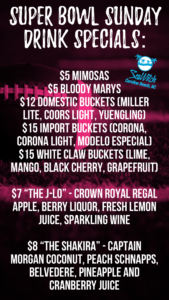 Stay tuned for more info: There will be lots of prizes given away!