CBMF Kick-off Party with the TAMS and 14kt Gold Band
Showtime: 7pm – 11pm
Cover Charge: $5
This is a kick-off party for the annual Carolina Beach Music Festival series that you won't want to miss. We have amazing live music and drink specials to keep you entertained all night.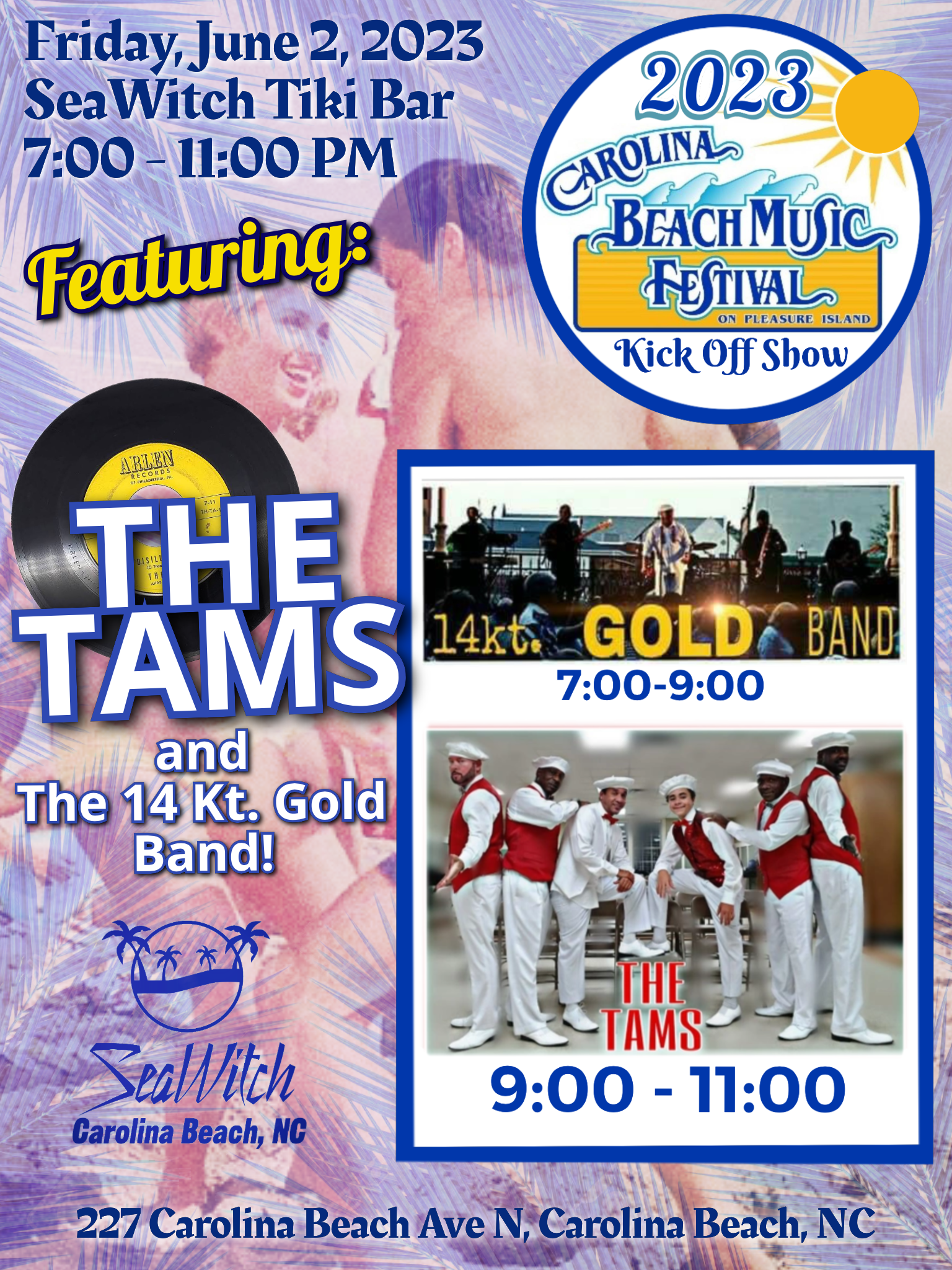 About the Bands:
THE TAMS: 
The Tams have been entertaining and thrilling audiences for over 40 years. Known for such hits as "Be Young, Be Foolish, Be Happy", "What Kind of Fool", "I've Been Hurt" and "Untie Me", The Tams have had 2 Gold Records, and 1 Platinum Single. Many of their songs have hit the top charts (such as Billboard Top Charts, R&B Top Charts, Top 40, and even the UK Billboard Charts). Their show is fun, fresh and exciting and appeals to audiences of all ages and musical tastes.

THE 14KT GOLD BAND
is the highly energetic opening act for the TAMS that you won't want to miss!
SOME IMPORTANT INFORMATION FOR THE SHOW!
1. We have a very strict 2 hour table limit for this event, as we do all summer. This is peak season for us and we will be doing regular dinner service, as this event is open to the public.
If you are still wanting to hang out after your 2 hours is up, NO PROBLEM! We will have cocktail tables set up at the front and back bar that have a clear view of the stage for you to continue to enjoy the entertainment. We just have to make sure that everyone gets a chance for dinner service.
We also have a huge dancefloor that you are free to dance the night away on, we strongly encourage it!
2
.  The cover charge to the kick-off party is separate from that of the ticket price for the Beach Music Series on Saturday June 3.
3. We understand that at the Beach Music Festival you are allowed to bring your own alcohol, however, this is not the case for our event. There will be no outside alcohol because we are an established bar and restaurant with proper permits with the liquor board.
4. There will be no personal chairs allowed. Even though we do have a large dance floor, for our guests safety and fire code standards, we can have no additional chairs on the dance floor or in the walkways.
Friday Drink Specials:
$
$
$
We are looking forward to this fun event! It will be a night to remember!