Uncle Hairy
March 16
8:00 pm - Midnight
WILMINGTON'S OWN ROCK & SOUL REVUE
UNCLE HAIRY
8:00 pm – Midnight
Uncle Hairy is your Ultimate Cover Band featuring the most popular music from
the 70's, 80's & 90's to the present. The band's goal is to provide the great cover tunes from
Pop, Rock, Soul/R&B & Country's hottest eras & mainstream genres. The band was born
from the core of Wilmington's #1 party band…The 360 Degrees. The energy & unmistakable
chemistry of the band brings a unique feel to all of the music, which in turn brings a fresh new
style to the area's music scene. Call on Uncle Hairy to take your entertainment to the next level!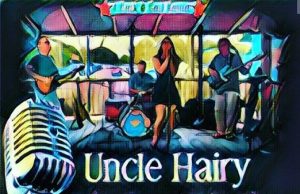 Comments
comments