Party of 6ix – "Partying for the Pier"
September 21
8:00 pm - Midnight
Party of 6ix – "Partying for the Pier"
Live tonight from 8:00 pm – Midnight on the Main Stage!   Cover FREE!
Hurricane Florence hit our area hard last week and we were extremely fortunate to only have minor damage. This wasn't the case for all local businesses – one being the Carolina Beach Pier; a staple in our town. To pay it forward, we want to help raise money for helping rebuild it.
Party of 6ix is teaming up with us to have a "Party for the Pier". We are taking door donations to go towards rebuilding the pier and the band is donating their pay to the cause as well. This speaks volumes about their hearts and character- so please support their talent whenever you can ♥️!
If you aren't able to donate, that's more than fine! Come enjoy some great music and hang out with some amazing people!
If you want to donate but can't make it, here is a direct link to the CB Pier GoFundMe Account:
https://www.gofundme.com/24s9s-rebuild-cb-pier
We'd love to have you all come out tonight and hope you can!
Great Bands rarely just "happen". It takes vision, hard work, leadership, teamwork and yes, a little luck!  PARTY OF SIX, Wilmington's fastest rising variety/dance/party band is a result of all those ingredients and much more. January 2018, marks the genesis of what will soon prove to be one of the regions most popular and entertaining bands.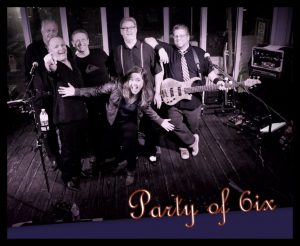 About the Band:
As the name implies, Party of 6 is composed of six of the regions top musicians that have bonded together with one goal in mind:  to create the ultimate dance party experience. Whether you like to "get your groove on", "party like a rock star" or "dance the night away", Party of Six is your ticket to ride !!
The band features impressive male and female lead vocalists, pristine harmonies and stellar musicianship all delivered with uncompromising professionalism and state of the art production. Their set list features incredible variety promising fun, exciting, dance music to satisfy most every musical taste.
From Rick James and the Rolling Stones to Bruno Mars and the Black Eyed Peas, Party of 6 does it all, including classic and modern pop, rock, funk, country, R & B, soul, beach, reggae and more. The emphasis is always on creating an entertaining, energetic, fun party experience with upbeat tunes spanning over five decades.
Ask your server about rotating Lunch and Dinner Specials!
Bar Specials:
$3 Corona and Corona Light Bottles
$5 Malibu Coconut Rum
$5 Jim Beam Kentucky Bourbon
Comments
comments