Valentine's Day Dinner
February 14
5:00 pm - 10:00 pm
Valentine's Day Dinner
SeaWitch is now taking reservations for Valentine's Day:   Friday, February 14th, 2020.  This year, we will be offering an amazing 4 Course Meal in addition to our regular dinner menu.
You do not have to be ordering off of the 4 Course Meal to make a dinner reservation.  We are accepting reservations for both Regular Menu and Specialty Menu!
Click the image below to enlarge menu: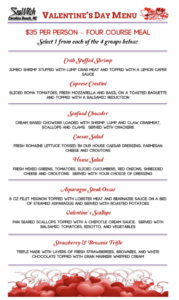 Our dining room will be transformed into a romantic and enchanted space 

♥️

 and we will be having dancing and live music from 8:00 – Midnight with The Guardians.
Call us at 910-707-0533 or message us via Facebook or email to make your reservation today!
information@seawitchtikibar.com
Live Music with The Guardians from 8-12 in the Tiki Bar!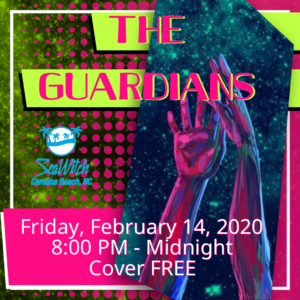 In addition to our regular drink specials, we also will be offering these specialty Holiday Cocktails:
Friday Bar Specials:
$5 Southern Comfort
$5 Malibu Coconut Rum
$5 Jim Beam Kentucky Bourbon and Jim Beam Honey
Comments
comments