Help for Hope Town Fundraiser
November 23
12:00 PM - 7:30 PM
Help for Hope Town Fundraiser
12:00 PM – 7:30 PM
While Hurricane Dorian narrowly missed Pleasure Island this year, it devastated the Bahamas for days. The Hope Town Volunteer Fire & Rescue was badly damaged, and the fire truck that was donated to them by Kure Beach was totaled, along with other safety vehicles and rescue equipment.
The Carolina Beach, Kure Beach and Wilmington Fire Departments have come together to donate rescue equipment, another fire truck, and to send teams of volunteers to help the Hope Town Volunteer Fire & Rescue (HTVFR) and its Elbow Cay residents recover from Dorian. Our goal is to raise funds to help transport these donations and rescue volunteers to the Bahamas – Island Helping Island.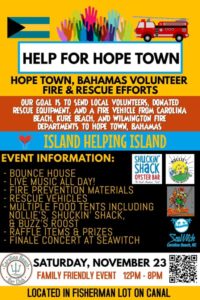 EVENT INFORMATION:
This family-friendly event will kick off at 12:00 pm in the Fisherman parking lot adjacent to SeaWitch (at Carl Winner & Canal Drive). Several local fire departments will have rescue vehicles for the kids to explore, fire prevention goodies, mascots, a bounce house and even a fun presentation about fire safety.
We will have five food booths from local restaurants that include Shuckin' Shack Oyster Bar – Carolina Beach NC, Nollie's Taco Joint and Buzz's Roost at the Beach, with all food proceeds benefiting HTVFR.
We will have live music all day from Elliott Smith, Skip Barnhill, Cheap Cool and Just Yesterday. There will be amazing raffle items and prizes that will be announced in the weeks prior to Nov. 23. Immediately following our #CBBC event, at 8pm, SeaWitch Cafe' & Tiki Bar will host the finale concert for all to attend, featuring Machine Gun.
Please click GOING and then Share this important Carolina Beach Bar Club event as we give thanks for surviving a hurricane season while offering aid to another island that desperately needs it!
Comments
comments